19,600 Certifications To Date
Established in 2012
---
Welcome to MotorClubTraining.com
— Now Enrolling —
Driver Training by experts who have completed
1 Million Successful Service Calls
We've Certified Thousands of Drivers
You Can Get Certified Too!
• New? Visit our Orientation Page
• Owner Looking to train your drivers? Group Packages
• Are you a Driver looking to improve your Skills? Select Courses
• Did your employer send you here with a coupon code? Get Started
We are dedicated to bringing our years of industry expertise to your team. The Motor Club Training system brings real industry knowledge to your fingertips. Once you have completed one of our certification courses, you and your team will be equipped with the best practices for industry standard towing. Watch our video to learn more about the features of Motor Club Training and examine a sample course to get a feel for our content.
FREE LESSON – Premium Customer Experience Skills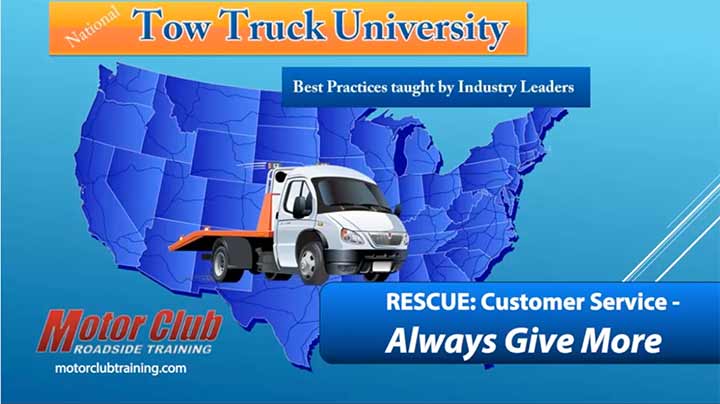 ---
 Membership Benefits
Certify your entire staff with our Pro Certification series. Or, if you just need someone on your team to brush up on their customer service skills, Motor Club Training can help. Get your organization thinking like top performing businesses across the country. Resources for members include training, certification, documentation and instructional videos to help your business run more smoothly and your training efforts to be more productive.
---

Learn more about us
Motor Club Roadside Training offers the best-in-class roadside assistance training online.  We provide the most comprehensive learning platform in the industry and are poised to educate other professionals to sharpen their roadside assistance skill sets.  With our in-depth training lessons, detailed instructional videos and challenging exams.
Train Staff Quickly
Motor Club Roadside Training provides the best step-by-step instructional tow truck training and certifies the student after they successfully pass the testing process. Every successful Pro or Master student will be able to print their certification upon completion.
Customer Service Centered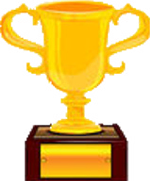 Excellent customer service is at the center of successful organizations. Our training stays customer focused and helps to educate your staff that customer service begins with how they themselves choose to handle interactions with the customer.

Towing Services
Learn all of the aspects of the towing industry, starting with towing, roadside services and dispatching. Dispatching is vital to your operation running smoothly. With our Dispatching certification we will review industry best practices for your dispatchers. Towing and Roadside Assistance are also available.
---
Motor Club Training offers the best-in-class training online!
Check out all the features offered with our membership program.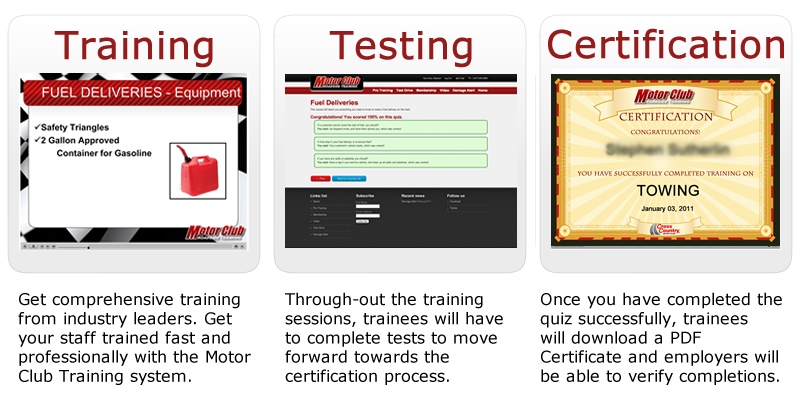 With the ability to customize our training to your need, MotorClubTraining.com is truly affordable. You can either take one course as a topical refresher like "Customer Service" or "Towing". Or sign up for a certification track if you need an employee to be trained or to correct an employees' bad practices.
---